Wilson Perumal & Company (WP&C) is proud to announce it has been certified as a Great Place to Work. 97% of employees report having a consistently positive experience at WP&C, compared to 59% of employees at a typical U.S.-based company.
"We are so pleased to be recognized as a Great Place to Work," said Stephen Wilson, WP&C Managing Partner. "Having the right culture and offering valuable opportunities for development is key to how we attract and retain top talent. Our team is the foundation that allows us to help clients tackle their biggest challenges. As we prepare for growth in 2021, we look forward to adding more stellar talent to our tightknit, exceptional group of consultants and leaders."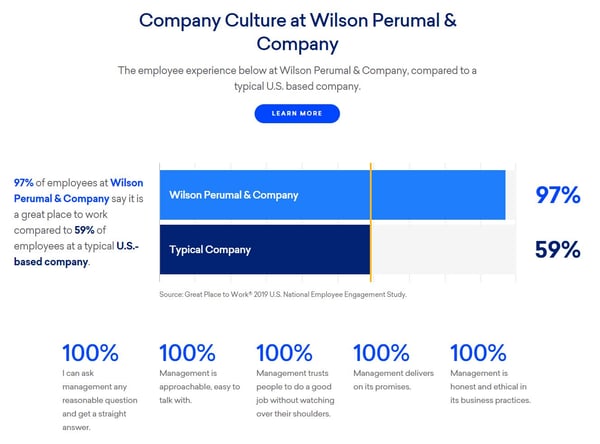 Great Place to Work is a global authority on workplace culture, employee experience, and leadership behaviors. Its rigorous, data-driven methodology found WP&C had notable results across all survey measures and particularly excelled in the areas of management communication and management involvement with 100% of employees affirming excellence.
"At its core, consulting is a people business, and we need to be a great place to work to attract the right team," WP&C Partner David Toth said. "Clients praise us for being different and easier to work with than other consulting firms. Our client success starts with our innovative, dedicated team."

In 2019, Consulting Magazine ranked WP&C No. 1 among best small strategy consulting firms, excelling across all facets of the employee satisfaction survey, and also ranked No. 1 in work/life balance and No. 2 in compensation and benefits.
Learn about careers at WP&C here.