Legacy systems prevented the company from integrating new technology and key functionality. The company needed a fresh perspective on the key capabilities for future competitive edge, growth, and increased productivity. The firm also required guidance on the technology stack, integration, functionality, and proper front-line use to reach their goals.
1. Identified levers and capabilities to get right across the value chain: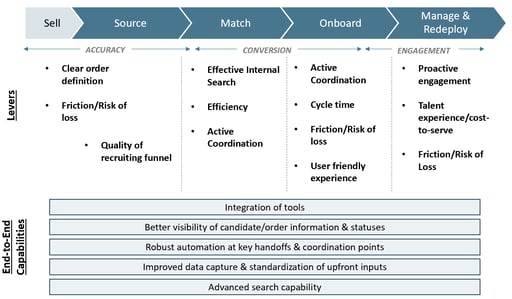 2. Identified root causes of candidate drop-offs and fixes across tech, process, and the organization to increase assignment throughput: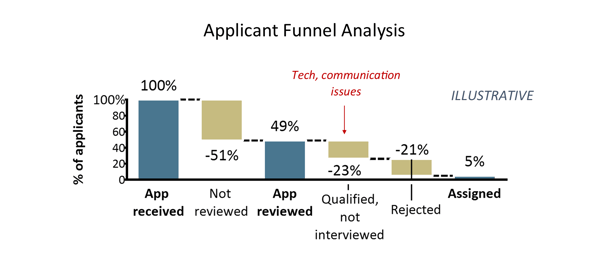 Developed quick-win opportunities including user-centric training of existing tools, improved inter-departmental handoffs, and fit-for-purpose onboarding with a better candidate experience
Adjusted investment priorities to create competitive differentiation capabilities for the long run (e.g., rich data environment, search)
Established capabilities critical for the execution of the digital strategy—Biz-IT integration capability; risk management framework; Solutions Engineering
Sharpened digital strategy—defined what to own vs. buy an alternative roadmap to middle office capability enabled by microservices: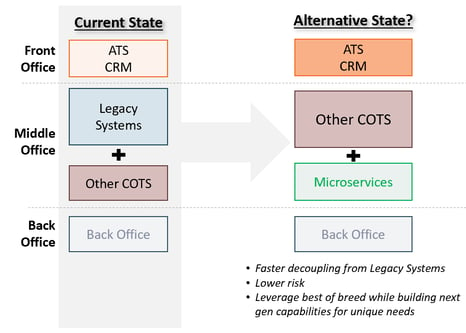 WP&C provided the client with clarity on how to gain latent value from deployed technologies and offered an insightful, actionable view of key functionalities to enable a competitive edge. WP&C helped align the siloed organization to move forward and reap benefits in the near and long term.
Short-Term Benefits:
10% expected increase in assignments, revenue, and gross profit
Improved candidate experience
Higher redeployment rate
Internal alignment on projects to prioritize and accelerate vs. pause vs. mitigate risk
Long-Term Benefits:
Competitive differentiation protected by key technology investments
Reduced technology risk
Lower cost to serve