The business had seen year-over-year increases in revenue through organic and inorganic growth. Acquiring similar services companies allowed the company to expand into new geographies and offer additional services. However, the acquisitions resulted in varying practices, policies, and preferred suppliers at each branch, leading to a broad range of profit margins with the highest profit margin branch four times that of the lowest.
Moreover, the costs of equipment rentals and consumables had risen due to post-pandemic inflation and equipment shortages. With ad hoc procurement processes and increasing direct costs, the company saw slower bottom-line growth compared to its top-line growth. Complexity in the supply base and in operations was the culprit.
WP&C conducted a rapid 2.5-week assessment to develop a target, launch an initial wave of sourcing actions, and established implementation champions from the client's field operations team. We analyzed spend data and performed market & supplier research to identify key procurement categories based on our understanding of the market and suppliers. Based on the analyses, the sourcing strategies for several categories were developed, including several quick-win cost reduction opportunities.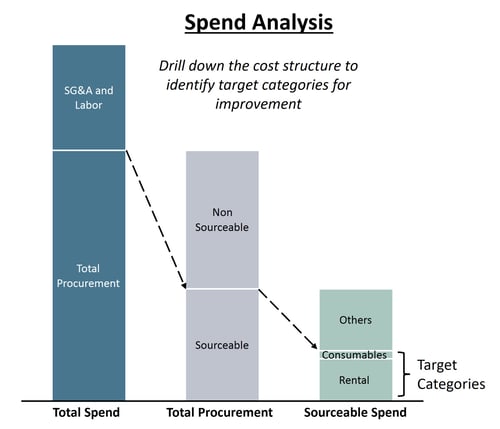 Solicit equipment and vehicle rental Request for Proposals (RFPs) and perform structured negotiations with key suppliers on lower rates, higher rebates, and reduced non-rental charges (e.g., transportation fees)
Join selected Group Purchasing Programs (GPOs) to get additional savings on consumables categories, such as office supplies
Establish preferred suppliers and supplier relationship management programs as a toolkit to standardize and sustain the savings
Hold regional and branch leaderships accountable for total annual savings and the compliance of the new programs
We worked side-by-side with the client to execute the recommendations. Our RFP support includes setting up and managing the RFPs, preparing structured negotiation scripts based on the RFP results, and negotiating on behalf of our clients with the suppliers to maximize savings. By introducing selected GPO programs, the client was able to receive additional savings on consumables categories. Moreover, to ensure the savings could be sustained, we partnered with implementation champions to operationalize the plan and create the required documentation.
WP&C provided strategic sourcing recommendations on key categories with clear and simple steps to begin realizing over $2M (11%) savings and 2X rebates within three months.
Developed and agreed on new rate cards and timing in documented memorandum of understanding (MOUs) with suppliers
Defined new branch-level preferred supplier lists for clarity in operations
Worked with implementation champions to lay out a practical implementation plan
Develop expectation scorecards for each branch by which to track progress
Identified and laid-out other situational levers to employ and use going forward