The company was composed of multiple business units (BUs) acquired over the years by the previous owner. Each BU was allowed to operate with relative autonomy and distinct strategies, competitive advantages, processes, and systems. Complicating matters, the executives were used to managing smaller companies but were now tasked with managing the federated whole and developing a cohesive growth strategy.
To determine the best path forward, these leaders needed to better understand the strengths and weaknesses of each BU, why they won or lost bids, who were their ideal customers, which were the best services to offer, whether geographic expansion was warranted, and what is the right operating model to achieve the growth targets.
1. Build a fact base
WP&C collected and analyzed all sales data from the BUs, interviewed all customer-facing staff, spoke with over 100 customers or potential buyers, interviewed 14 industry experts, and studied industry reports, competitors, and relevant regional growth trends. In doing so, we developed a robust understanding of the business around the key dimensions of geography, service line, industry sector, and customer type. We also developed a deep understanding of existing business processes and employee strengths.

2: Develop market sizes and revenue
WP&C determined the national market sizes by current service line, and by new services the business was considering bringing to market. We assessed each market's "service potential" and the client's "ability to win." Market potential was based on factors that included expected growth rates, competitive landscape, opportunities to generate repeat business, among others. Ability to win was based on factors such as alignment with current business strengths, investment required to enter, and their credibility to operate in the area. The results of the analysis were presented in a bubble chart where each bubble represents a different service line (labels have been removed) and the Total Addressable Market (TAM) size.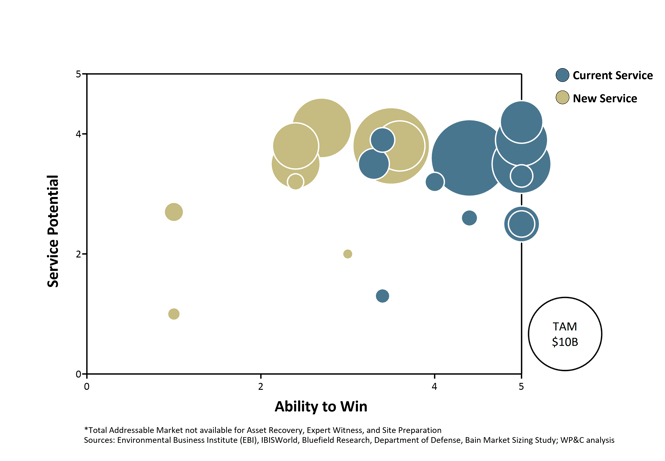 This analysis enabled in-depth conversations with the client about the most attractive adjacencies to enter, and where further investment in existing services lines was warranted. Having now identified and prioritized the target markets, we sized these markets in each region where the client operates and developed 3-year revenue projections for each service line.

3. Assess client capability gaps, barriers to growth, and evaluate BU strengths to overcome the challenges
During the fact-building phase, WP&C interviewed every customer-facing employee, analyzed all existing sales and accounting data, interviewed clients and potential clients, and spoke with industry experts. We also calculated the proposal win-loss rates for each BU along the dimensions such as customer industry, service line, geography, new versus repeat customer, tenure of the proposing staff member, and opportunity size to identify where the client was strongest at winning business and where they were struggling.
These exercises led to deep insights and helped reveal insights that management had previously been unaware of, such as the fact that each BU was operating as a near standalone entity with drastically different competitive strategies, many of their proposals failed to include essential information that customers used in awarding a contract, and the existence of dramatically different pricing strategies across—and even within—the BUs. We also revealed areas of strength within each BU that could be adapted across the entire company.
The win-loss analysis WP&C performed allowed us to create a framework for client executives to use to develop a coherent go-to-market strategy and create the necessary sales operations processes and management approaches needed to meet the revenue growth targets.
We also provided the client an overview of each BU's strengths, weaknesses, opportunities, market niche they were most aligned to, dominant sources of revenue, and a detailed analysis of how sales staff spent their time. These insights were novel to company management and helped inform later strategies and implementation decisions.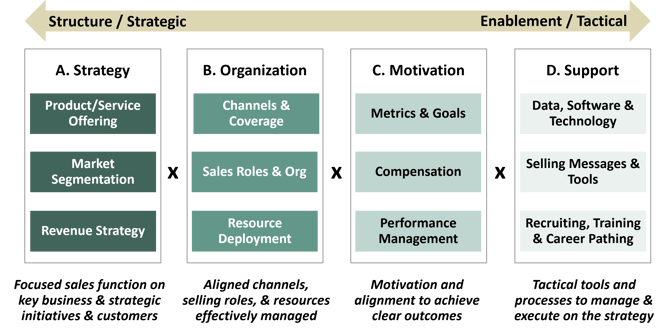 In addition to the market opportunities and 3-year growth targets, WP&C also recommended specific strategic and tactical improvements for the business to achieve growth targets. These recommendations included:
Steps to formalize and strengthen sales management capabilities
Strategies and tools to help sales representatives spend their time more effectively
Improvements to marketing materials and bid proposals
Training and development areas to improve sales skills
Strategies to improve cross-selling to current customers
Strategies to transfer capabilities present in one BU to other BUs
Improvements to firm-wide technology and data strategies