The company was seeing per-barrel revenue increases with its craft brands, but profitability was not increasing along with those revenues as expected. Rising costs were obviously to blame, but from where and how by how much? The profitability assumptions for the new craft products the company was producing were based on the costs associated with producing legacy products. The brewery operators knew this was not the optimal approach, but they did not know how to quickly account for the additional complexity of the multiplying craft products without undertaking a long, expensive activity-based costing (ABC) exercise. Craft beer was the future of the industry and the company needed to understand how to get into that market profitability if it wanted to remain relevant and grow. It needed to comprehend the cost impacts of brewing many small batches of craft beer in facilities that were originally built to support the brewing and packaging of very large batches of a small number of beers.
With the industry's move to craft beers and recent efforts to introduce small-batch products proving not to be profit-enhancing, the company knew it needed to gain a better understanding of productions costs in its rapidly changing environment. The ABC exercise would not work as the effort could take 6-12 months and by the time it was complete the environment would have changed. WP&C's Square Root Costing approach gave the company a quick, accurate, dynamic view of their costs that could inform new product decisions and help guide strategy going forward. The approach to WP&C's work fell into two categories:
Square Root Costing:

Over the course of 7 weeks, WP&C was able to apply our Square Root Costing approach to understand how complexity was impacting the company's operations and account for the costs of that complexity down to the operating profit level for all of its SKUs (product-package-size combinations) and at all of its breweries.

Portfolio Shaping:

With the deep understanding of their operations, WP&C developed an analysis of the impact complexity was having on costs, clear guidelines to determine if a new product was successful and insights into where the company was truly reaping the most profit, and where there were opportunities to improve profitability.
After WP&C's 7-week deep-dive into the company's operations and financials to develop a complexity-adjusted view of production costs, WP&C provided the management team with a clear understanding of product profitability and a roadmap to increase it for legacy and new products.
Legacy Product Profitability:

High-volume beers were more profitable than anyone at the company thought; however, they were not being treated that way. With new insights into the true profitability of these legacy products, the company could now justify the appropriate level of marketing and development spending on these products. Additionally, the complexity-adjusted analysis showed some of the company's lower-tier products were less profitable than expected. Straightforward packaging material cost reduction opportunities were identified to enhance profitability.

New Product Profitability:

WP&C's costing analyses led to very useful guidelines for new product decisions, such as setting minimum sales thresholds a new product must meet to be economically viable. This was very helpful in reducing complexity by culling the existing craft product portfolio and setting clear hurdles future products had to achieve.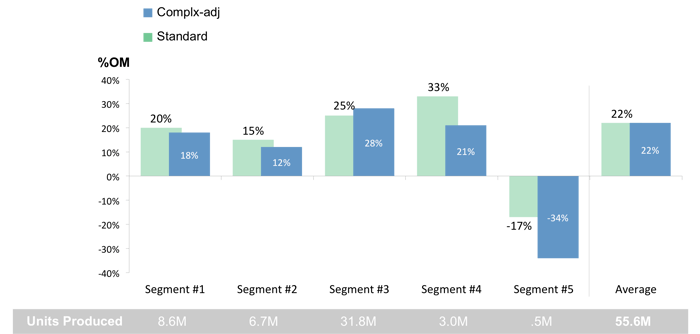 By looking at profitability through a complexity-adjusted lens instead of simply using historical assumptions & standard costs, the company was able to gain new insights into its portfolio and make better decisions about product strategy, where and how to invest in the future, and realistically evaluate its new product funnel. In the first year alone, the company benefited $35M thanks to the insights provided by the work WP&C did with them.