The Black homeownership rate is the lowest among all racial groups in the United States, resulting in a homeownership gap of over 550,000 households in the Deep South. This gap is growing—making closing it a massive undertaking. The gap is the byproduct of a complex mix of factors including historical policies as well as present-day access to education, knowledge, financial resources, and affordable housing. In Mississippi, Black mortgage applicants earning over $150,000 a year have their applications denied at a higher rate than white applicants earning between $30,000 and $50,000.

Although the client knew this was a big societal issue, they didn't yet know how they might address it. They first needed to understand the problem more deeply and then they needed a plan with concrete goals to determine how, where, and the time frame to tackle the Black homeownership gap in the Deep South. The credit union was closing fewer than 500 mortgages a year and would need to drastically increase production to begin to impact the homeownership gap. They needed to create a comprehensive strategy to reach more potential customers, improve their technology and processes, and do so in a financially sustainable way.
Market Sizing and Demand Planning
WP&C extrapolated population growth and foreclosure rates to model how fast the homeownership gap was growing, and how many mortgages the client would need to close to stop the gap's growth within ten years. We used this model to set a ten-year mortgage target, providing the foundation for long-term expansion planning.
WP&C used recent and historical trends, census data, and internal analysis to predict annual mortgage demand (in terms of total mortgages and mortgage size) among the client's target demographic of Black first-time homebuyers. This target market analysis highlighted which metro areas to focus on, informing short-term strategy on launching market expansion pilots.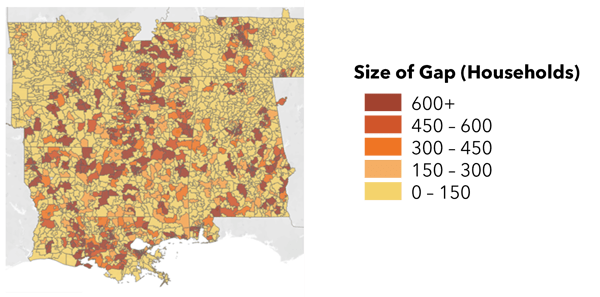 Size of the homeownership gap in the Deep South by zip code (Source: U.S. Census)
Organization Design
Using the ten-year mortgage target determined through our market sizing work, WP&C developed three potential operating models dependent on varying levels of outsourcing and technology, each with its own organizational requirements. We outlined the leadership capabilities necessary to ramp up mortgage production and defined new roles required to expand the mortgage department. Finally, we developed updated organization charts by year to allow the client to plan for future growth.
Operating Model (Technology, Process, and Outsourcing)
The client needed to drastically increase their mortgage production, while also maintaining the high level of customer interaction they were known for in the community. To start, WP&C designed a notional mortgage application process allowing for a flexible experience for the client's target audience while also evaluating available tech and outsourcing providers to understand the current market. We then developed a 3-year plan to revamp the existing mortgage process, including replacing the existing tech stack, optimizing manual processes, and outsourcing low-touch portions of the process.

"Partner," "Automate," or "Outsource" decision framework for mortgage lending process
Communication and Governance
To ensure continued progress after WP&C's involvement, we worked with the client to establish a Project Management Office (PMO) team supported by an internal communications structure and cadence. We defined key leading metrics to allow the client to track and iterate on their progress closing the Black homeownership gap and constructed a detailed implementation roadmap for the next ten years.
Financial Planning
WP&C built on the client's existing financials to account for the impact of their new mortgage lending targets. We created a dynamic projection model which forecasts varying scenarios around mortgage rates, cost of capital, asset strategies, and more. This allowed our teams to plan for potential accounting, regulatory, and fundraising needs over the next ten years.

WP&C provided the client with short-term recommendations for immediate execution and impact in the first year, as well as a 10-year strategy and governance structure to ensure ongoing progress and success towards closing the Black homeownership gap.
Short-term Tactical Recommendations
Create new Chief Mortgage Officer position and scale project capacity with new hires
Design the target mortgage lending culture required to meet the projected growth and begin implementing key cultural tenets with new and existing workforce
Select new mortgage technology vendor(s) and replace existing manual process quickly scale and enable reach outside existing markets
Launch physical and digital expansion pilots in two target markets to test innovative, scalable strategies for enabling iterative market expansion
Draw on the updated financial projections to create a 5-year funding plan
Develop policy briefs for down payment assistance, mortgage securitization, and affordable housing supply to affect federal support
Long-term Strategic Recommendations
Develop targeted community partnership strategy and implement in target markets
Execute expansion pilot strategies and learnings company-wide
Outsource back-end low-touch portion of the Mortgage process
Optimize underwriting standards for impact, process, and target communities
Plan for, and begin selling, mortgages to reduce assets and fund additional production growth
Share best practices and evangelize the winning model to peer lenders (other CDFIs, community banks, partners, etc.)
WP&C set the client on a path to close the homeownership gap with an ambitious 10-year mortgage production goal paired with concrete steps needed to succeed in both the short and long-term. With WP&C's help, the client went from an initial idea to actively building a new mortgage organization including: a dedicated team armed with a staffing plan, a new loan application process, a plan for best-in-class technology and operational efficiency, the capability to iterate and test expansion strategies, and the ability to forecast financial and fundraising needs.