The Company had grown rapidly with its high-end brand positioning, unparalleled ability to bring new products (colors) into the market, and aggressive forays into new channels and geographies. The problem was that the supply chain and production couldn't keep up and excess costs piled up rapidly. Supply chain costs soared to over 18% of revenue due to excess overtime, premium shipping, and overseas sourcing needed to maintain availability. Inventory soared to an all-time high.
With its eye on complexity, a WP&C team approached the challenge differently than most other firms would in order to realize quick-win cost improvements and sustain and contain costs going forward. The team's process included:
Assessing the profitability and impact of its first foray into the big box channel to assess the added process- and organization-related complexity it introduced
Opening up the aperture on all channels and the company's product management approach to assess how SKU proliferation (product-related complexity) contributed to low production, high inventory, and poor availability
Conducting detailed assessments in distribution centers, transportation management, and procurement to gauge current practices against best practices and to assess quick win potential
Stepping back and reexamining the logistics network that evolved without design, meaning many facilities weren't optimally sized, laid out, or staffed
Rethinking the organization and competency requirements for the Supply Chain Management Team going forward
Over the course the project, the WP&C team established a new fact-base and a transformation initiative it subsequently helped sell to the board and move the client down a multi-phased path over the next 3 years. Key recommendations included:
Reconsidering and retiring many of the products it was offering. The number of SKUs had grown over the previous three years by almost 60%. This variety eroded manufacturing capacity and made inventory planning increasingly difficult across its eight distribution centers.
Reevaluating its very generous customer service policies. Delivery was often given away, Distributors were allowed will-call for 2-3-unit orders, and product was shipped across the country on an expedited basis for relatively low-value customers.
Formalizing inventory policies. There was only one aggregate target worked toward regardless of product velocity or lead-time; differences in demand variability were not recognized. This meant high levels of low-running inventory and many high runners out of place in the network.
Moving from an in-house logistics network of eight distribution centers serving all channels to three regional DCS serving wholesale, and national accounts and distributors fulfilling the rest.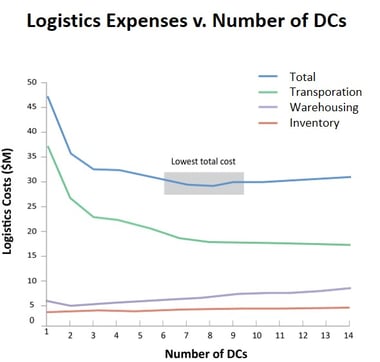 WP&C worked with both the US and Corporate teams in the Front Office and in Supply Chain Management to align on the most advantageous courses of action now and in the mid- and long-term future. Results included:
Solution and implementation of quick win opportunities in transportation and material handling to realize over $2M in savings
Design of a new logistics network projected to reduce cost by another $3M+
Creation of inventory targets and policies aimed to improve availability and reduce inventory by >$20M
Reduction of overall supply chain expenses as a percent of revenue to a benchmarked target of a 13-14%