There was limited engagement from the manufacturer's upper management on the shop floor and no clear direction for performance goals. As production demands increased from a pre-pandemic lull, the Supervisor role evolved into a reactive, firefighting position rather than one of active floor supervision. Functional leaders became tied up in calls and meetings, unable to go to the shop floor.
When demand picked up and operations became capacity constrained, the management team leaned on Supervisors to pick up miscellaneous tasks associated with greater production. These additional responsibilities prevented Supervisors from focusing on floor performance, uptime, and employee development. Mistakes were being made and quality was beginning to suffer. The Supervisors felt they lacked the support they needed to drive results and increase throughput.
WP&C followed its Human and Organizational Performance Framework to get all levels of the organization working together to control risks and improve performance outcomes.
Operating Model (structure):


Ensuring the organization has an appropriate organizational structure to support the operations, including the right layers, with the right roles, with the right responsibilities

Operational Culture:


Shifting to a culture focused on enhancing performance through proactive management rather than reactive "firefighting"

Management System:


Implementing and sustaining a System for Management to support the planning, execution, and follow-up of all work

Leadership:


Increasing leadership engagement across all levels of the organization, with specific focus on frontline leadership

Human (central tenet):


Understanding that humans make mistakes, blame fixes nothing, learning and improving is vital, context drives behavior, and how you respond to failure matters
When asked about WP&C's approach, a shop floor leader said, "It's good to get an outsiders view of how we are doing things and their quality suggestions of what we can do better."
WP&C's Human & Organizational Performance Framework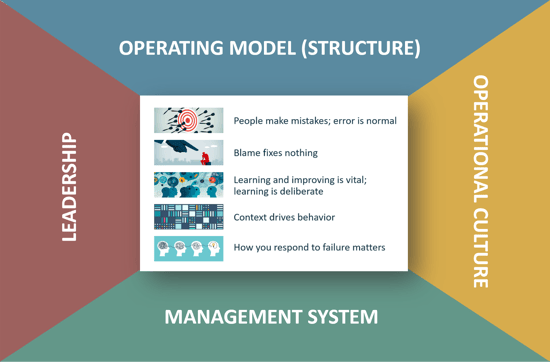 WP&C worked closely with the manufacturer to develop and implement specific improvements in each area that drives Human and Organizational Performance:
Operating Model (structure):
Created new "Lead" roles on the shop floor to focus on an area's performance and employee development, enabling Supervisors to spend more time focusing on overall floor performance

Shifted non-value-add activities from designated Supervisor responsibilities to better focus on employee strengths and better prioritize available working time

Operational Culture:

Focused on building relationships between management and the frontline team

Encouraged more ownership for operators and leads and ensured accountability across all levels of the organization

Conducted day-in-the-life study of Supervisors to understand and address common challenges

Management System:

Overhauled and expanded crew huddles to create consistent communication and performance discussions daily

Developed standard operating procedures to support operators during training and work execution

Rolled out performance boards to the shop floor to track results from Kaizen events and support SQDCE performance discussions

Leadership:

Deployed Gemba walk process and expectations for leaders to increase time and engagement on the shop floor

Implemented a rotating daily audit program and included discussions in daily leadership meetings

Provided coaching to Supervisors and Managers to improve the quality of discussions and outcomes during crew huddles

Human:

Increased focus on training and development, with new cross-training initiatives, improved procedures, and development opportunities through Kaizen events

Supported overtime reduction to increase morale and reduce human errors due to working too many hours
WP&C's support in implementing each H&OP element helped the manufacturer realize the following results:
Created an engaged culture with improved communication among Operators, Supervisors, and Plant Management

Reduced the time each Supervisor spent on non-value add activities by over 50%

Sustained a 50% improvement in average throughput on a bottleneck line and reduced setup times by 60% across the entire plant

Along with other initiatives, supported a 400% increase in EBITDA in one year