The business was eager to capitalize by strategically growing in the more profitable areas in which they possessed real capability and relationships. But lofty ambitions to more than double EBITDA ran up against the complexity of mobilizing a truly global company, gaining enough equipment capacity, realizing ongoing price concessions for inflation, and contending with both labor constraints and surging competition. And while global, each region the business operated in presented unique challenges and opportunities in terms of customer dynamics and type of drilling (translating into different equipment and skill-set needs).
1. Assess macro environment and market dynamics
WP&C first sought to understand the context in which their client's strategy would have to operate. We collected and analyzed market data and did deep research dives into both historical and current trends with an eye towards the drivers of supply and demand. We then evaluated competitor actions and performance and assessed market forecasts.
2. Determine core geographies and services
Considering the breadth of our client's geographic presence and drilling service offerings, WP&C set out to establish where and how the client should play (where to focus). We conducted interviews with regional managers from across the world and performed quantitative analysis of region and drill type market size, growth, stability, and margins to establish regional and service offering specific strategies.
3. Develop customer account management strategy
The next step was to develop a systematic approach for the client to identify, evaluate, and manage their key customers. We assessed customer segments by margins, growth, regional presence, and drilling consistency, and then analyzed opportunities by region to gain new customers and increase share with existing ones. From this activity, a new six-step process for identifying 'Key Accounts' was developed.
4. Layout roadmap for pricing, investing, and innovating
Finally, WP&C assessed and developed approaches to pricing, capex, M&A, and pursuing new technologies. We also defined and formalized a set of metrics, or 'lighthouse,' to keep management abreast of market trending, providing additional context for decision-making regarding pricing, contract terms, equipment location, and capital investments.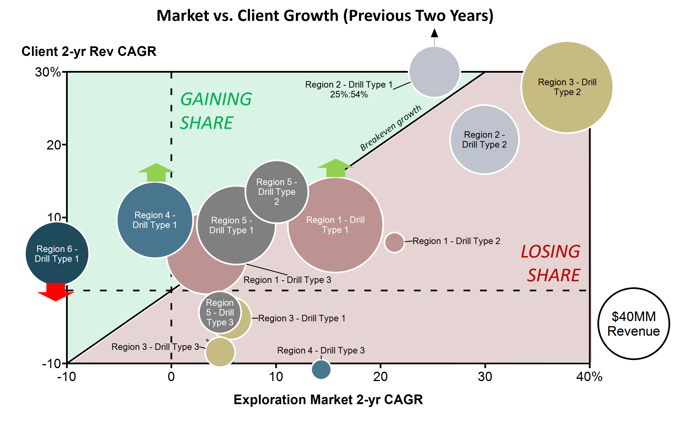 A comprehensive go-to-market strategy for the next four to five years:
Focused on core geographies, service offerings, commodities, and customers to support expected market growth and preserve revenue in the downcycle
Opportunistically pursuing strategic services and customers to maintain exposure to potential areas of exceptional growth
Capitalizing on opportunities and mitigating adverse impacts of inflation with aggressive pricing actions backed by evidence-supported customer pricing conversations
Selecting investments in technology, equipment, and people to improve automation, enable workforce diversity, and maximize asset utilization with a continued priority on safety
WP&C provided the client with a practical, focused go-to-market strategy combining existing knowledge with new insights and findings. With the strategy also came a commercial playbook for the front-office to leverage, maintaining direction and pricing momentum as well as formalizing decision-making considerations for investment going forward.