There were multiple challenges that had to be addressed while performing an in-depth due diligence study of the facility and potential future use scenarios. First, several of the buildings and their enclosed industrial equipment were slated for demolition due to hazardous waste exposure. Retaining these facilities required completion of remediation actions and successful negotiation of reuse agreements between the government agency head and state's Governor. Second, planning for demolition activities was well underway and award of demolition contracts was imminent, but the required planning horizons for potential CAPEX and funding future operations were well past the planned demolition decision dates. Lastly, the extensive hazardous waste remediation requirements meant the operational demand for the current workforce would end well before new future operations at the facility could commence.
WP&C leveraged its extensive experience with the operations, organization, and constraints of government-owned industrial facilities to develop a five-step approach to conduct the required operational diligence:
Step 1: Developed two distinct assessment frameworks: 1) a site assessment framework, and 2) a potential opportunity evaluation framework. The site assessment evaluated the buildings and infrastructure, the overall site characteristics, and the workforce characteristics. The opportunity evaluation looked at how well the opportunity aligned with current business needs and the overall business strategy, and the opportunity's business case (including execution timeframe, return on investment, and local economic impact)
Step 2: Conducted stakeholder interviews, performed market analysis, and gathered relevant information to complete the evaluation
Step 3: Evaluated the gathered information against the assessment criteria
Step 4: Identified and developed potential future business opportunities (use cases)

Step 5: Assessed the current site and facilities for suitability to support these opportunities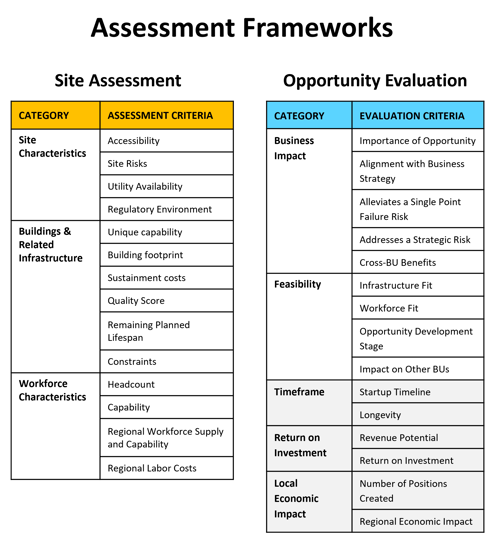 Through this six-week effort WP&C determined that 54 facilities had high feasibility for reuse feasibility, 37 had limited or low reuse feasibility, and 3 had no reuse feasibility. Additionally, we developed 14 new business opportunities that could be executed at the site to make use of the existing facilities and workforce. With these findings, WP&C made the following recommendations:
Pursue the five most promising opportunities. Three of these five opportunities were determined to have the potential to fill existing strategic capability gaps, and the other two were determined to have meaningful potential economic impact
Plan to retain the 54 facilities with high feasibility for reuse. These facilities offered the most potential to support future business needs.
Continue to explore potential partnerships with other industrial operators who may find significant value in the existing facilities at the site.
Continue to execute the ongoing workforce support initiatives to facilitate the workforce transition as the hazardous waste processing operations conclude.
The WP&C team identified significant potential cost savings by repurposing the facilities, and we also developed multiple new business-line opportunities that could generate significant revenue at the site. These opportunities included:
Cost avoidance of nearly $100 million by repurposing select existing facilities for new operations

New business lines with an annual revenue potential of more than $750 million that could leverage existing facilities, infrastructure, and a significant portion of the current workforce

Opportunities to reduce strategic risk and add strategic depth for the client organization