Wilson Perumal & Company (WP&C) is proud to announce it has been certified as a Great Place to Work for the third consecutive year and has been named one of the top 100 Best Small and Medium Workplaces in Texas 2023 by Fortune Magazine. 96% of employees report having a consistently positive experience at WP&C, compared to 57% of employees at a typical US-based company.
"It is a point of pride that we have been certified as a Great Place to Work for the third year in a row," said Stephen Wilson, WP&C Managing Partner. "WP&C has experienced more growth—both in terms of employees and revenue—in the last year than any year in the firm's 13-year history. We couldn't achieve that without the culture that underpins our ability to deliver exceptional results to our clients. We are headed toward another record-breaking year in 2023 as we continue to expand our exceptional group of consultants and leaders."
Great Place to Work is a global authority on workplace culture and employee experience. Its in-depth, data-driven methodology found WP&C received exceptional scores for recruiting, responsibility, ethics, employee acknowledgment, and promotions.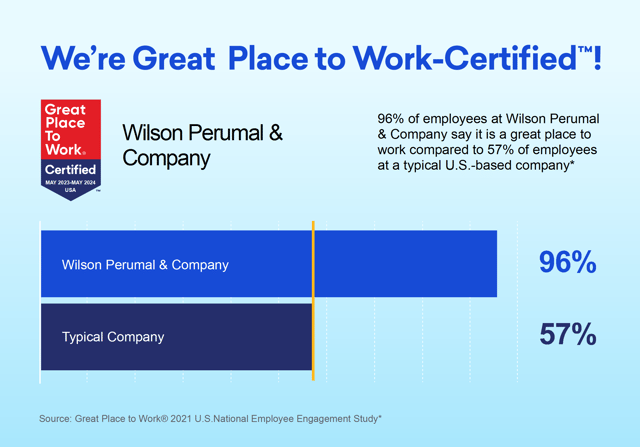 "Being certified as a Great Place to Work reinforces what we work so intentionally to create at WP&C—a collaborative, inspiring environment where team members at every level constantly expand their skillsets to grow as professionals, have the opportunity to develop groundbreaking IP, and work intimately with clients to solve their toughest challenges," WP&C Partner and Chief Technology Officer Dean Hamilton said.

In 2019, Consulting Magazine ranked WP&C No. 1 among best small strategy consulting firms, excelling across all facets of the employee satisfaction survey, and also ranked No. 1 in work/life balance and No. 2 in compensation and benefits.
Learn about careers at WP&C here.