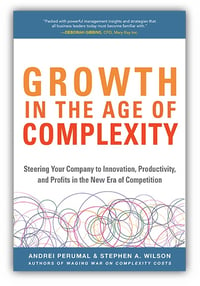 DALLAS, Texas – Wilson Perumal & Company is pleased to announce the release of Growth in the Age of Complexity: Steering Your Company to Innovation, Productivity, and Profits in the New Era of Competition (McGraw-Hill). Authored by cofounders and managing partners Andrei Perumal and Stephen Wilson, this cutting-edge resource untangles the layers of complexity that often prevent companies from achieving profitable growth.
Filled with real-world examples, this essential text explains what it means to achieve true scale in today's Age of Complexity. The book provides masterful guidance for companies to assess current strategy, and details the critical mindsets and skillsets needed to plot a course towards sustainable, profitable growth. Perumal and Wilson expose the Growth Paradox—illuminating how the very actions companies take to grow often limit their growth—and offer actionable, expert advice on how to achieve growth and maintain a competitive advantage while avoiding the Sirens of Growth™.
"Perumal and Wilson offer a nuanced and evidence-based analysis of the paradox of complex growth, but they move beyond description to offer practical and field-tested advice on how to avoid the traps they identify," said Don Sull, Senior Lecturer at MIT Sloan School.
Since its release, Growth in the Age of Complexity has garnered attention and acclaim—reaching #12 on the 800-CEO-READS Bestseller List and being one of Amazon's top 200 books on Operations Research. The book has also earned praise from high-profile executives. Deborah Gibbins, CFO of Mary Kay, described the book as "packed with powerful management insights and strategies critical for success in the Age of Complexity," and John Browett, CEO of Dunelm, commended the book, stating it "eloquently explains how complexity can impede growth and scale, and maps a way out of a dilemma that confronts and confounds many companies today."
Perumal and Wilson are the leading authorities on the topics of complexity, innovation, and growth and have also coauthored Waging War on Complexity Costs (McGraw-Hill). They are pioneering thinkers on strategy and operations and have unparalleled experience advising senior leaders—in both industry and government—to develop and execute strategies to successfully compete in the complex world.
Order the book Growth in the Age of Complexity:
https://www.amazon.com/Growth-Age-Complexity-Productivity-Competition/dp/0071835539
About Wilson Perumal & Company
Founded in 2009 and with offices in the US and Europe, Wilson Perumal & Company is a premier management consulting firm with significant depth in strategy, operations and due diligence. Leveraging their unique perspective, WP&C skillfully assists companies that are struggling with the complexity of today's world and need fresh perspective from a new breed of strategy consultancy.
Wilson Perumal & Company contact
+1-972-716-3930
contact@wilsonperumal.com
www.wilsonperumal.com