Stephen Wilson, managing partner of Wilson Perumal & Company, was quoted by the Wall Street Journal discussing how big companies are managing new challenges—an accelerated pace of technological change, increased pressure from investors and boards, and heightened demands from customers. Size is no longer synonymous with growth and profitability.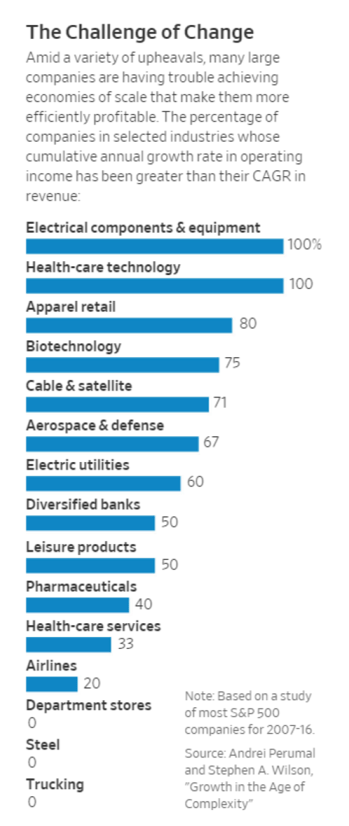 In the article "Big Companies Face Period of Rising Growth and Turmoil," Wilson explains that approximately 40% of companies in the S&P 500 are becoming less profitable as they grow. Wilson and managing partner Andrei Perumal analyzed the measured revenue growth and operating income of top companies and discovered that companies with operating income growing more slowly than revenue experience so-called 'diseconomies of scale', as opposed to leveraging desirable economies of scale.
"In the industrial age, the biggest company was the most competitive," Wilson says. "Today, companies are trying to get bigger to get economies of scale, but to get bigger they are becoming more fractured, and that means less economies of scale. Companies are realizing that they can't just add new products and grow, that they can't just go into more countries and grow."
The article also featured data from Growth in the Age of Complexity (McGraw-Hill, 2017), co-authored by Wilson and Perumal, which illustrated the challenges big companies face achieving economies of scale that make them efficiently profitable.

Wilson works across industries and has particular depth in consumer goods, industrial goods, manufacturing and retail and also co-authored Waging War on Complexity Costs (McGraw-Hill, 2009) with Perumal.