What products does your company sell or services does it offer? How and where do you hope to grow in the future? How do you segment your customers? Do you treat customers different across segments? How do you organize your sales team to reach your customers? These are all questions you must answer when defining your firm's Go-to-Market strategy (GtM). Engaging with your customers in the right way (service & support) with the right products or services and in a way that aligns with your company's goals for growth is the only way to consistently and reliably grow your business over time.
Components of Go-to-Market Strategy
At its foundation, a Go-to-Market strategy is a function of three components that must be aligned and work in concert with one another to be successful: growth strategy, product & service offering, and front office structure. The decisions your company makes in those areas cannot be static—competitors, markets, customers, regulations, etc are constantly changing and require you to be vigilant in regularly reassessing and judging your GtM strategy to ensure it is aligned and will deliver the results you are seeking.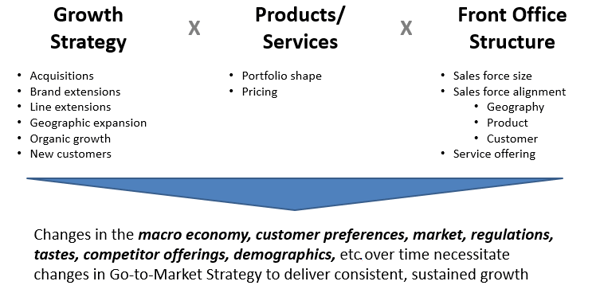 Growth Strategy: How and where will your company grow? New product lines? New line extensions? New geographies? New customers?
Products & Services: How are your products grouped? Do you focus on a particular price point or product type? How are your products differentiated from each other and from the competition?
Front Office Structure: How do segment your customers? Is your sales force aligned by products, by customers, or by geography? What levels of service to offer? How do you differentiate service offerings between customers?
Stay tuned for more content in our series about growth.