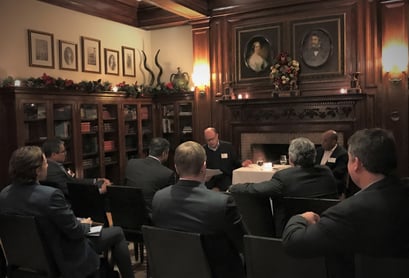 Wilson Perumal & Company was delighted to host senior executives and operating partners in the private equity community to participate in our Operating Partner Series December 6, 2018 at The Lambs Club in New York.
We had a lively fireside discussion and Q&A with Dean Hamilton, SVP and CTO of Persistent Systems, on an important topic: how to exploit innovative technologies such as AI without introducing unmanageable complexity. We enjoyed conversation, cocktails and networking with leading industry and PE peers and look forward to the next Operating Partner Series event.
About Dean Hamilton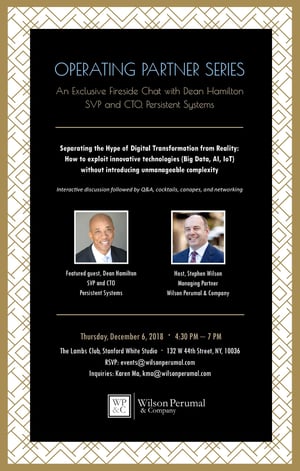 Dean is a pioneering figure in the technology industry. He brings more than 30 years of experience in the technology industry, including being named by Forbes.com to their list of "The Top 8 Technology CEOs to Watch."
His areas of expertise include technology and business strategy, product innovation, design, development, and delivery. Recent roles have focused on AI and IoT. Dean began his career as a software engineer and quickly became Director of Engineering for NetExpress, where he worked closely with Dr. Larry Roberts, the inventor of packet switching technology.
Dean later co-founded CoSine Communications, a first-of-its-kind virtual network computing platform. As CEO and President, Dean led CoSine to a very successful IPO with a market capitalization of $7.1 billion, and continued on as the public company CEO. At Cosine, Dean pioneered the technologies and business strategies associated with network-based computing services (now known as Cloud Computing) and network virtualization.
If you would like to be invited to future Operating Partner Series events, please contact us at events@wilsonperumal.com.