Revenue contribution for the core segment was driving volatility for the entire business. While the core segment was declining across all markets, smaller segments were also struggling to grow. Although high in margin, one of the smaller segments carried the most uncertainty.

The deal team recognized that complexity in and across segments would challenge growth going forward. Any potential value creation plan would need unique insights only visible by clearly seeing the complexity in the business. The new complexity lens would need to be added to its traditional commercial due diligence approach.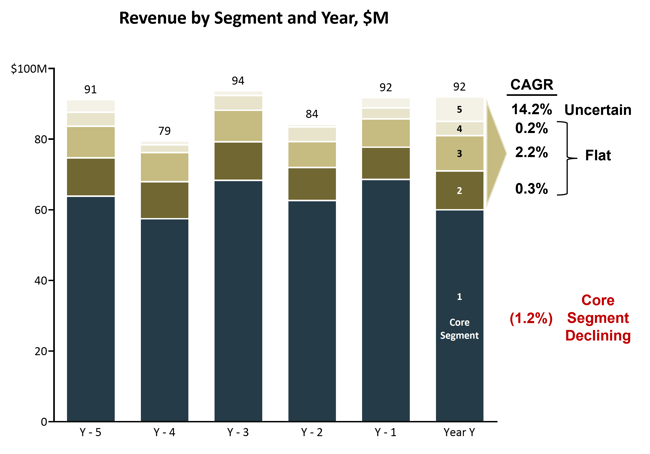 WP&C's approach included traditional commercial due diligence enhanced by a unique complexity perspective and tool-set. With this differentiation, WP&C quickly uncovered and sized a $130 million revenue opportunity that had not been previously identified by either the PE client or the acquisition target.

First, WP&C collected and analyzed public and private data to identify industry-wide trends over time. This included historical and projected changes to regulations, demographics, technology, economics, taxes, tariffs, and adjacent complimentary industries. The data analysis was supplemented with industry expert interviews to test and validate assumptions around raw material costs and customer price-estimating.

WP&C applied its tools to identify, segment, and filter out unprofitable products, customers, and channels disproportionately consuming resources that could be better focused on the primary product segment. Addressing this value-destroying go-to-market complexity was worth $130 million.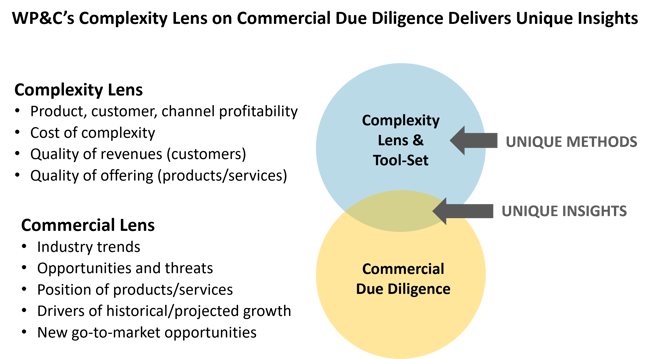 WP&C recommended divestment from a low-growth product segment that created organizational complexity through low volumes and high customization. The remaining segments were classified by total market size, growth attractiveness, and relative ability to compete.
Each segment assessment included recommended actions. The value creation plan for smaller product segments required engaging current channel partners to coordinate a new GTM strategy to capture growth.

The primary segment in the core market presented an irresistible opportunity. Both the PE firm and fabricator were previously unaware of the ~$130 million growth opportunity in their core market.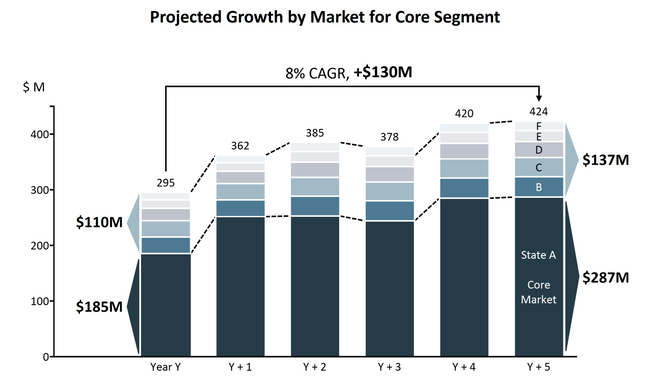 Using WP&C's detailed and objective third-party due diligence of the acquisition target's growth potential, the acquiring PE firm successfully raised the remaining capital to finalize the deal. WP&C's identification of the previously unrecognized opportunity in the core market tipped the scales for the attractiveness of the deal.
Based on WP&C's value creation plan, the PE firm was planning a debt paydown over five years, for an IRR of 26%, and a 6x exit multiple. With a growth strategy properly aligned with the market, the new management team could focus on executing their business transformation plan and boost EBITDA.