A home health care company had recently acquired two businesses but had difficulty integrating the functional areas. Months post-close, the businesses continued to operate independently with very few actual integration activities occurring. Communication was strained and confusing between the central office and acquired companies. The lack of strategic direction made it challenging for the operations team to execute integrations.
The client was increasingly frustrated that it was not able to achieve the economies of scale it had hoped to achieve by centralizing back-office functions. Each acquisition brought increased complexity to the business, and it was becoming impossible to manage. With more acquisitions planned, WP&C was brought in to navigate the complexity and ensure successful integrations of future acquisitions.
WP&C recognized implementing structure, amid an increasing number of acquisitions, was pivotal to creating consistent integration execution and ensuring swift return on investment
The WP&C team designed a standard approach to integrations that would help streamline the process and remove the dysfunctions the company experienced with previous acquisitions; this plan would be easily adapted and repeated as new acquisitions are made
The WP&C team created a prescriptive, 5 Phase Approach to steer the operational integrations—a shift from the 'bottom-up' approach the team previously used; task lists for each functional area were created and tasks were categorized by phase to create an explicit integration plan for each Functional Area Owner


WP&C worked with Acquisition leadership, the Executive team, and the Integration team to identify the priority integration items by acquisition that, by properly and swiftly centralizing, would bring the most significant benefits to the company.


WP&C formed a Project Management Office (PMO) to be put in place to support the success of future integrations. This structure included the assignment of explicit roles and responsibilities to the team meant to ensure accountability.
We then authored a detailed Post Merger Integration Playbook to be used by the PMO in future acquisitions. This PMI Playbook provides guidance for pre and post-close due diligence and sets the specific timing needed for each functional area.
Finally, we recommended the prioritization of specific integration items based on the current state of each acquired company e.g., WP&C recognized and quantified the impact centralizing recruiting and scheduling individual healthcare providers on revenues.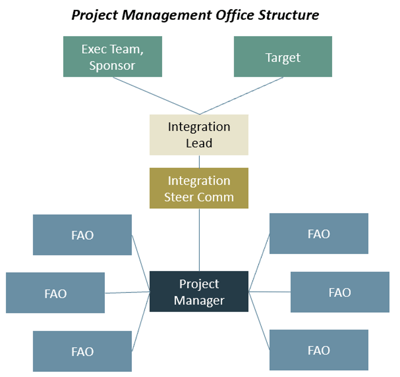 The company has continued to use the Post Merger Integration structure WP&C put in place. The company immediately applied the tools to four additional acquisitions and will continue to leverage the PMO as it acquires new companies.