Despite its strong brand name, the organization had a long client waitlist and was struggling to meet demand — delivering a mere 54% of prescribed therapy hours (fill-rate). The company couldn't pinpoint the bottleneck and mistakenly believed the issues were rooted in the inadequacy of their matching software instead of their processes.
WP&C uncovered significant role overlap and ambiguity that created process and organizational complexity around one of the firm's most important value streams — therapist talent management.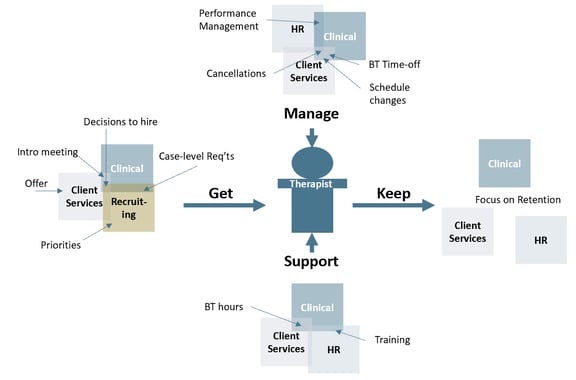 WP&C conducted a 4-week diagnostic to identify opportunities for growth and transformation. The analysis determined the fastest route to growing the business was closing the therapist supply gap.
WP&C pinpointed the levers to increase the volume of delivered hours: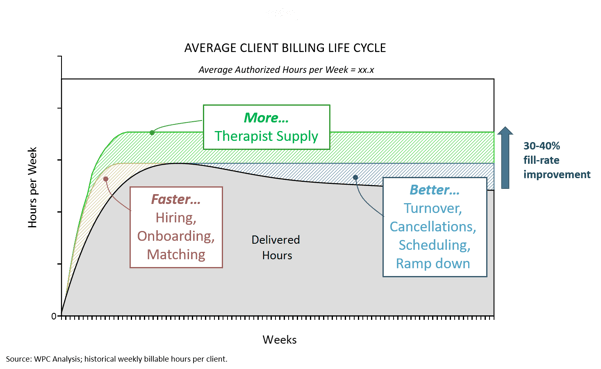 The analysis also found several issues holding the business back:
Processes were inefficient, particularly therapist recruiting, onboarding, and matching with clients
Processes were largely undocumented and lacking compliance — unsurprising given they were created without an intentional focus on goals, efficiency, reliance, etc.
Limited visibility to underlying drivers of fill rate and profitability and a lack of performance metrics
Significant organizational overlap and lack of clarity around roles, responsibilities, and handoffs
WP&C helped the firm quickly increase therapist supply and utilization via improved therapist recruiting, matching, and retention practices. A number of significant, immediately impactful transformations occurred:
Redesigned recruiting, hiring, and onboarding processes, clarified roles, and enhanced recruiting software usage to increase therapist 'supply'
Reconfigured therapist-patient matching software and updated scheduling/matching process to improve utilization
Built a sense of community and shared culture to improve therapist and patient retention

QUICK WIN: Recruiting changes were implemented during the diagnostic and showed results within weeks
2x therapist hiring throughput (with only 20% more recruiters)
Therapist and client turnover decreased significantly