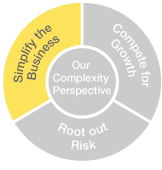 Click on sections of the graphic above to learn more
Simplify the Business
If you were to "re-imagine" your business and rethink how it might work from a clean sheet of paper design, how would it look? If you were to focus on the value-add, the sources of profitability, and could banish the non-value-add, what would fall away? In most companies, complexity costs are the single biggest determinant of your cost competitiveness. Attacking complexity and shifting to a more streamlined model can lead to a 15-30% reduction in costs of your business. Most executives know this at some level, but they lack the tools to make step-change moves that could free up resources and accelerate growth.
Wilson Perumal & Company is uniquely positioned to help you simplify your business:
We are the experienced authority on complexity reduction. Through our position as thought-leader on the topic, we have worked with many global corporations to help them simplify their business, and adapt to a complex world.
A deep understanding of complexity and how to manage it. Uniquely, we invest significantly in research to broaden our clients' understanding and capabilities in this field. Our book, Waging War on Complexity Costs, is recognized as the top resource for addressing complexity in organizations.
We are the innovators of Square Root Costing. Our complexity analysis utilizes this proprietary approach, alongside other analytical tools and techniques, to identify true profitability of your business, a prerequisite to designing the right strategy and business operations.
Read more about some of the key ideas associated with simplifying your business:
Determine true cost & product profitability
Read more
Often the first step in simplifying a business is to understand where the non-value-added complexity and costs lie and which products/services or customers are your winners and losers. Our Square Root Costing (see Square Root Costing Spotlight) methodology correctly accounts for complexity and resultsin a fast and more accurate picture of product profitability than the traditional 'per item' or 'per volume' allocation methodologies. With most companies, we find that only about 20-30% of their products produce 300% of profits, with the remaining 70-80% of products eroding 200% of profits (also see Whale Curve Spotlight)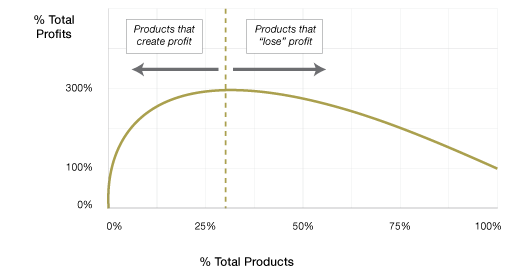 Correctly allocating the costs, without spending time on a long ineffective activity-based costing exercise, helps you understand the true cost and profitability and the likely financial and operational impacts from the actions taken on certain products/services or customers.
Optimize the portfolio
Read more
Getting an accurate view of the portfolio profitability is a critical enabler for optimizing the portfolio. However, portfolio optimization is more than simply "cutting the tail" of the portfolio. Wilson Perumal & Company approaches portfolio optimization from a holistic point of view (see Six-Facet Approach to Portfolio Optimization Spotlight), taking into account strategy, process/organization, substitutability, and incremental profits to ensure that the resulting portfolio is one that helps support the company's strategy as well as optimize profits.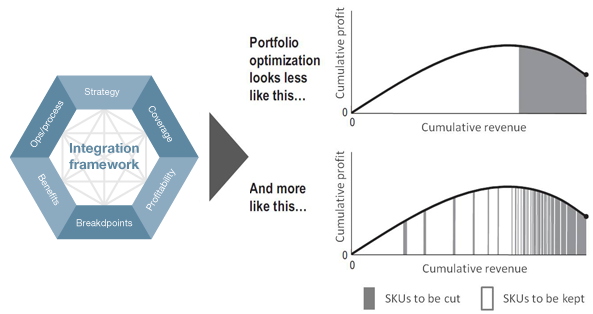 Simplify the operating model
Read more
Your company seems to be pulling in different directions. Your people, processes, assets and technology are working out of sync and struggling with organizational silos. A proliferation of initiatives is sapping organizational energy with little meaningful progress. Organizational and process complexity can feed each other, creating a vicious cycle (see figure below). If this is your situation, then it is highly likely that you have an operating model which has become increasingly complex with time. In this situation, it is important to re-assert "true north" and refresh your Operating Model.

Today large companies need internal cohesion in its operations more than ever to keep costs low and agility high. This does not simply mean centralization of duplicate business units or installing a more integrated IT software as is commonly believed. Effective Operating Model simplification requires a deep understanding of the intricate interdependencies between your people, processes, assets and technology to maximize customer-value-add while minimizing waste and cost.