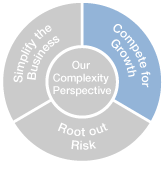 Click on sections of the graphic above to learn more
Compete for Growth
The pursuit of profitable growth has its perils. The downturn exposed the magnitude of previously hidden complexity costs—the result in many cases of undisciplined growth in the pursuit of scale, differentiation and new markets. Now companies are seeking to proactively understand what drives profitable growth, how to build meaningful scale without adding costs, and how to move fast enough to take the lion's share of market profits.
Wilson Perumal & Company is uniquely positioned to help you in this quest:
We are the leader in helping companies achieve growth without complexity.Our understanding of complexity – from a cost and growth perspective – allows us to work with clients to develop growth strategies that will create – not fragment – scale in the business. We have experience helping companies cutting through a long list of initiatives and refocus, or consolidating products and services for improved growth focus. The result? Growth comes faster and easier than expected.
We are the innovators of Profit Trajectory analysis. This analytical approach, based on our complexity analytics, allows us to help you assess your portfolio given different levels of volume and ask key questions such as: if we can grow Segment A by 200%, would it then achieve profitability? It effectively fills in many of the unknowns associated with managing life-cycle profitability and new product introductions.
We are execution-focused. We know the challenges of getting things done. We partner with you to ensure the growth strategy gets to implementation and you see the benefits.
Read more about some of the key ideas associated with competing for growth:
Develop & implement strategy for profitable growth
Read more
This is classic strategy work in which Wilson Perumal & Company is well-versed. What differentiates us apart from other consulting firms is we bring operational fluency to the strategies we develop. Our team has equal parts experience developing and executing growth strategies. Experience helps us craft strategies that we can actually land and which will yield results.
The tools WP&C innovated for strategy development include the Profit Trajectory analysis, a growth effect on the Whale Curve, and an incremental revenue and cost analysis. These tools, combined with other classic strategy tools such as growth-share analysis or customer & product segmentation, yield a powerful approach for attaining profitable growth.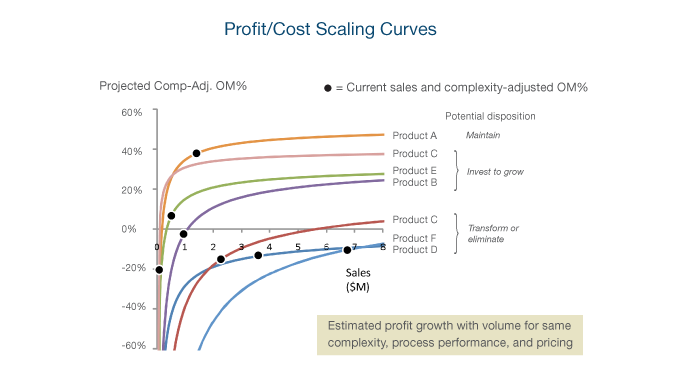 Optimize product portfolio & pricing position
Read more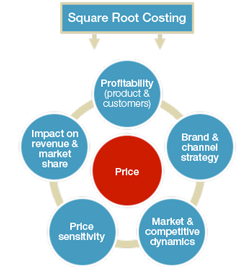 Product Portfolio Optimization is essential for enabling growth in the same way that correctly pruning a tree can help it to grow faster and fuller. Regular optimization focuses efforts, assets, promotions and sales onto the most profitable and strategically critical product groups. Portfolio optimization is oftentimes incorrectly viewed as simply cutting off the tail of slowest moving products. We believe such an approach misses a tremendous opportunity.
WP&C's approach to product portfolio optimization differs is distinctive in its methodology and effectiveness. It is a holistic approach which integrates complexity costs, asset utilization, substitutability, competitive analysis, and product life cycle, among other factors, to develop the right mix of products to drive increased profits and growth (see Six-Facet Approach to Portfolio Optimization Spotlight and Substitutability Spotlight). WP&C also injects a true understanding of product and service profitability (see Square Root Costing Spotlight) into pricing strategies.
Accelerate & focus innovation
Read more
Innovation is key for growth and market share. However, innovation means nothing if it's late to market compared to competitors. Companies with slow innovation delivery are constantly chasing market leaders, and frequently cutting corners to maintain competitive parity. So, why are some companies faster in innovation than their peers?
One major differentiating factor is the complexity in the organization and processes. The reduction of process-organizational complexity (see Complexity Cube Spotlight) prepares the companies for new innovations. One such example is the disciplined prioritization of innovation initiatives to limit the project-in-process, and thereby dramatically reduce the lead time (and time to market), such as shown below in the Motorola Computer Group example.
Selected Innovation metrics
2002
2003
2004
Product development projects
120
22
20
No. of new products
0
8
14
Product development time
n/a
24-28 months
12 months
Reducing cost of complexity at Motorola Computer Group, "Fast Innovation" (McGraw-Hill 2005)
Drive sales & organizational effectiveness
Read more
Product proliferation has created a new dynamic in the business: creating noise and a gap between you and your customers. Your sales force is stretched over too many products leading to a highly fragmented sales effort: in effect, every sales person selects and sales their own portfolio. Small orders are accepted without a true understanding of the incremental cost. The list of issues that we have seen is significant, and the impact on revenue growth can be significant. The good news, however, is that it is fixable: there are key strategies that you can quickly undertake to mitigate the impact of complexity on sales force effectiveness.
Wilson Perumal & Company can help you break out of this cycle by prioritizing key market segments, identifying the true cost to serve, properly aligning the sales force incentives with customer and product profitability.