Waging War on Complexity Costs (McGraw-Hill)
Complexity costs are the single biggest determinant of your company's cost competitiveness.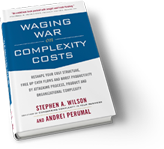 For the past two decades the pursuit of growth has created massive complexity in processes, product portfolios and organizations, adding costs which companies can ill afford. The only good news is that your competitors may be carrying as much complexity as you are. Learn how to eliminate this complexity and you can create a tremendous cost advantage over your competitors. In Waging War on Complexity Costs, Stephen Wilson and Andrei Perumal deliver a powerful and practical approach for reclaiming your cost advantage.
"This is an ambitious book packed with insight and fresh thinking"

MICHAEL B. McCALLISTER, President and CEO, Humana Inc.

"This is by far the best and most useful explanation of how to address complexity in a business. This book delivers."

AHMAD R. CHATILA, CEO, MEMC Electronic Materials Inc.

"Complexity dramatically increases costs and risk of failure. It is like a cancer that eats away at efficiency and profitability."

ANDY BEAL, Chairman and CEO, Beal Bank

"This is the first book that really targets organizational complexity in a compelling way, making this a must-read for any organization that is looking to distance itself from the competition."

TOM DiDONATO, EVP Human Resources, American Eagle Outfitters, Inc.