Growth in the Age of Complexity (McGraw-Hill)
A new lens on growth and a critical set of strategies for navigating a complex world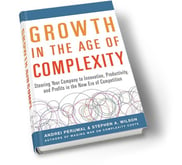 A new lens on growth and a critical set of strategies for navigating a complex world
Profitable growth has never been more challenging. The world is more complex and more competitive than ever. At the same time, customers expect unprecedented levels of choice. Today, companies must be more innovative and customer-focused than ever—all while simultaneously increasing efficiency and productivity. The challenge is to identify and capture new sources of growth without adding layers of complexity to a business. Welcome to the Age of Complexity!
In Growth in the Age of Complexity, the authors untangle the layers of complexity that often prevent organizations from growing and generating revenue. They explain what it means to achieve scale in a complex world; they introduce the Sirens of Growth; and they detail the critical mindsets and skillsets for navigating to profitable growth. Filled with real-world examples and expert advice, this essential resource will shine a light on your current strategy and help you plot a course towards sustainable, profitable growth.
You'll discover how to:
Assess where you're truly making money
Reignite your core products and services to drive growth
Incorporate experimentation as a key way to discover new opportunities
Create an operating model for scale, location, and replication
Identify new markets where you are positioned to win
Understand the fundamentals for executing in a distributed organization
This book is an invaluable tool for achieving growth and maintaining a competitive advantage in virtually any business.
Download Sample Chapters in PDF format »
"Timely, relevant and thought-provoking. An excellent read!"

Steve Voorhees, CEO, WestRock Company

"This is a terrific book! This book maps a way out of a dilemma that confronts and confounds many companies today."

John Browett, CEO, Dunelm plc

"Rich with thought-provoking concepts. A great contribution to the theory and practice of profitable growth."

Bruce Roberson, Senior Managing Director, Sun Capital Partners, Inc.

"A great read for any executive seeking profitable growth in a complex world."

Don Sull, Senior Lecturer, MIT Sloan School and author of Why Good Companies Go Bad and The Upside of Turbulence