Books
Waging War on Complexity Costs (McGraw-Hill) now available in Mandarin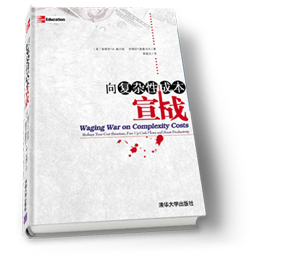 The #1 book on business complexity and complexity costs is now available in Mandarin Chinese.
Download Sample Chapters in PDF format:
"This is an ambitious book packed with insight and fresh thinking"

MICHAEL B. McCALLISTER, President and CEO, Humana Inc.

"This is by far the best and most useful explanation of how to address complexity in a business. This book delivers."

AHMAD R. CHATILA, CEO, MEMC Electronic Materials Inc.

"Complexity dramatically increases costs and risk of failure. It is like a cancer that eats away at efficiency and profitability."

ANDY BEAL, Chairman and CEO, Beal Bank

"This is the first book that really targets organizational complexity in a compelling way, making this a must-read for any organization that is looking to distance itself from the competition."

TOM DiDONATO, EVP Human Resources, American Eagle Outfitters, Inc.