Our Perspective
Our Point of View is rooted in the fact that modern businesses, and the markets in which they compete, have become increasingly complex. The evidence is abundant: in the level of the choices available to customers, in the global orchestration across markets and supply chains, in complex organizational structures that can impede decision making, and in the corresponding levels of product, process, and organizational complexity taken on by companies to deliver that variety. And there is no going back: tomorrow will be more complex than today.
We believe this is a shift, as significant as the shift from the pre-industrial age to the industrial age, which brought with it the opportunity for scale economies. Today's shift is the opposite of scale: complexity costs rise geometrically. As a result, the pursuit of profitability today is the battle between the pursuit of scale economies and the rise of complexity costs. Evidence shows that many companies believe they are creating scale, when in fact they are creating complexity.
The traditional "Economies of Scale" paradigm is outmoded due to complexity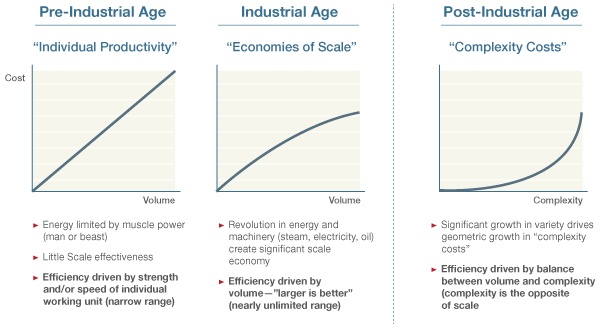 To take this further, we believe companies are now best understood and managed as "complex systems"—systems which are characterized by a large number of interconnected variables, with a non-linear web of cause and effect, and a dynamic nature all their own. This complexity perspective explains why many traditional management approaches and beliefs are now outdated and ineffective.
For example, many companies still operate on the assumption that there are just 2 types of cost: fixed and variable. They overlook the third type of cost – complexity costs. This frequently leads to misallocation, an incorrect view of product and segment profitability and flawed strategic-decision making.
The good news: by understanding the nature of complexity – and its permanence in our world today – and the impact on businesses and markets, you can learn to adapt to this new world, and in the process stay ahead of your less nimble competitors.
Contact us to learn how our complexity perspective can help your business thrive in today's world.