Profitability assessment and portfolio optimization for a multibillion manufacturing co.
Insight & Impact
The complexity-costing analysis revealed that in the US division, 18% of products generated 100% in operating profit and the remaining 82% of products destroying 99% of that profit
In addition, the three work streams identified opportunities for the business in SKU reduction, raw material consolidation, operational efficiencies, and a more targeted market focus. Identified opportunities represented a gross profit increase of 16%.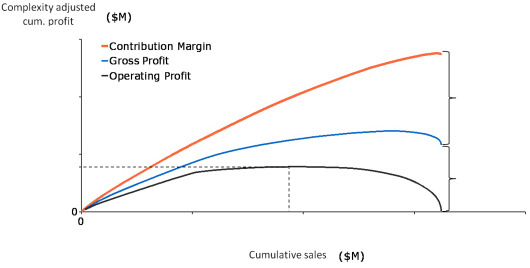 Key insight from the study:
TapeCo was unaware that many segments, traditionally considered key focus areas, were actually unprofitable after adjusting for complexity
With a clearer view of segment profitability, TapeCo could refocus its sales force and properly align R&D initiatives
Using substitutability as a lever, TapeCo was able to reduce a key raw material by 44%, lowering inventory and change-over costs
WP&C built a tailored operational model to help TapeCo manage the trade-offs between inventory, scrap, labor costs and desired service levels