Enterprise logistics strategy for U.S. federal government
Insight & Impact
WP&C's analysis shaped enduring guiding principles for enterprise management that served as the foundation for a new codified strategic framework. This framework provides an intuitive understanding of the key linkages across the enterprise, between logistics and other functions, and the set of levers and initiatives to enable the enterprise to meet its core mission at lowest cost. The framework is designed to remain applicable regardless of changing mission circumstances, and it enables decision-makers to evaluate and centrally manage the enterprise much more effectively.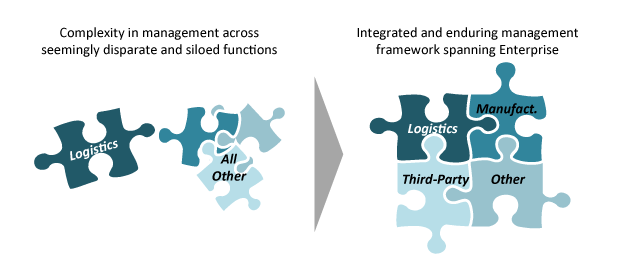 Key insight from the study:
Wilson Perumal & Company uncovered a number of complex polarities including organizational tensions between the network and site-level views, storage and distribution roles, and misaligned perspectives on what were considered the most paramount components of enterprise health. These insights were critical in
Revealing systemic complexity at the heart of the client's organizational issues, and later charting the new strategic framework.